COMING VERY SOON: Pre-orders gladly accepted.

New O-9 (On18) GAS-MECHANICAL kit.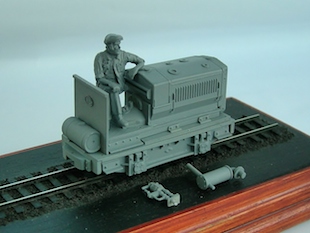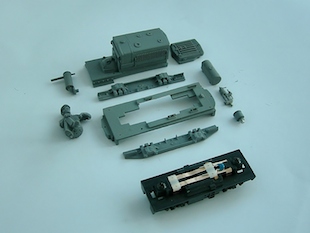 Following on from, and spurred-on by the success of our recently released O-9 DIESEL kit, this new project is once again designed to fit a KATO 11-103 0-4-0 donor mechanism. Note: we will only be selling the kit completewith the required KATO mechanism. Comprising high quality pro-moulded resinparts designed for simple adhesive assembly using thin-type superglue. Novice builders will find these kits a cinch and experts will appreciate the level of detail. Kit includes everything including the driver figure. We decided it would be a good idea to also include the same overall corrugated roof from our earlier O-9 DIESEL to help establish the 'family' house style. To help provide the modeller with options, the overall roof may be easily cut-down to provide a short roof over the cab area only. Oh, and it's worth pointing out the void inside the model's hood will easily accommodate a DCC decoder.
The O-9 GAS-MECHANICAL will cost £36. The KATO 11-103 mech costs £19.
UK postage and packing costs £4. Overseas airmail costs £8.

New O-9 WAGON kits.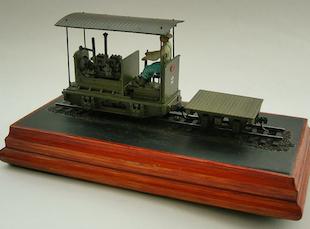 Well...customers keep asking if we'll make O-9 rolling stock for our O-9 locos to haul, so there are currently SEVEN different O-9 wagon kits in preparation. Think similar wagons to our On30 SELECT-a-CARs but only smaller! We've posted a photo showing the basic Flat Wagon - and mostly the rest of the wagons have been designed to use this same basic underframe - with the exception of the side-tippers. From the outset our O-9 wagons were designed to accept N-scale coupler standards so they feature compatible coupler heights to our O-9 locos. Not much point otherwise... We fitted Microtrains N-scale knuckle type couplers to our O-9 locos and wagons but any similar couplers will work. Our O-9 wagons feature a cast metal mainframe for low-down weight and to help them track properly. Bodies and sideframes are pro-moulded resin. You want fine details? Even wood grain and nail holes are all present and correct... The seven different wagons currently underway (with hopefully more to follow) comprise the following types: FLAT WAGON, STAKE WAGON, BULKHEAD WAGON, OPEN WAGON, TANK WAGON, Pair of BOLSTER (or LOG) WAGONS, SIDE TIPPER WAGON. Like our On30 SELECT-a-CARs, minimum order will be 3 x Wagons. These can comprise three of the same wagons or three different ones. Price and release date TBA.

COMING SOON: Pre-reservations gladly accepted

O-9 COMPRESSED AIR LOCO kit.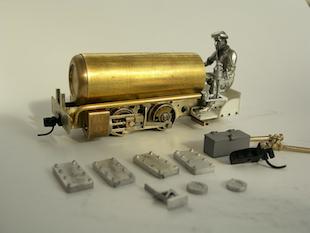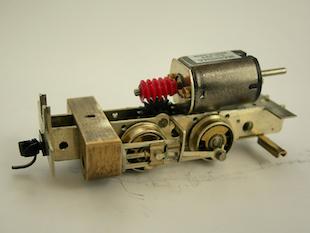 Patterns for this kit are done. Just waiting for news of the 9mm diameter driving wheels which are currently being manufactured. Comprises bespoke etched chassis with Mashima motor and double reduction gearing for smooth, slow running. Includes etched, pre-rolled pressure tank with high quality pro-moulded resin details. Price and release date TBA.